What Are the Benefits of Preventative Fluoride Treatments?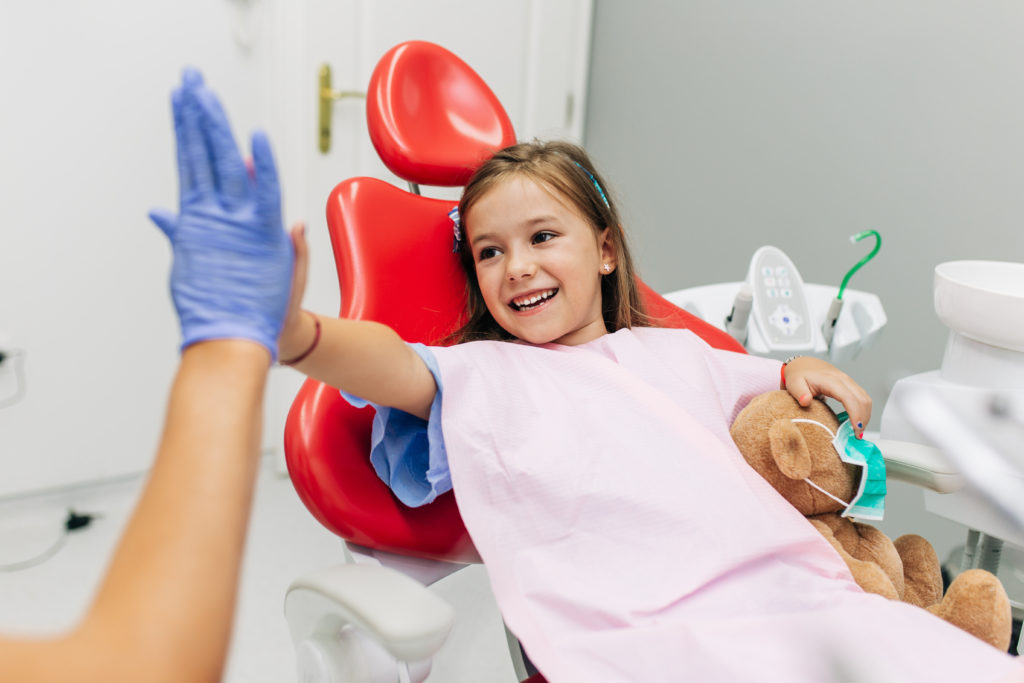 Dr. Karen Coe and her team at Coppell Pediatric Dentistry are proponents of prevention rather than treating dental disease after it develops. We are proud to offer our young patients quality preventative dentistry services, including fluoride treatments, to help keep dental disease at bay. We are all about laying the groundwork for a lifetime of healthy smiles.
What Is Fluoride?
Fluoride, a naturally occurring mineral, is a vital component of tooth protection from the never-ending battle against tooth decay and cavities. It is found in some foods, and as a public health measure, most communities also add fluoride to drinking water.
What Are the Benefits of Fluoride Treatments?
Fluoride treatment helps strengthen teeth and make them resistant to erosion from bacteria, sugars, and acids. It is one of the safest and most effective ways to prevent the likelihood of future decay and cavities. Better yet, fluoride has been shown to repair areas with minor acid damage and reverse the early signs of decay by remineralizing the tooth enamel.
How Much Fluoride Does Your Child Need?
The American Association of Pediatric Dentistry recommends fluoride exposure from six months of age. The recommended dose is about 0.23mg a day until your little one is about three years old. Fluoridated drinking water is usually sufficient to provide the daily required amount of fluoride. If, however, you don't have fluoridated water, your trusted team at Coppell Pediatric Dentistry will help determine whether your child needs fluoride supplements to help those pearly whites stay strong and healthy.
Keep in mind that too much fluoride exposure can result in tooth staining and discoloration. When you visit Coppell Pediatric Dentistry for your child's routine dental exam and cleaning, we will evaluate the health of your child's teeth and determine whether the fluoride intake is adequate.
Brushing with Fluoride Toothpaste
Once the first baby teeth come in, begin brushing them with a soft baby toothbrush and a tiny amount of kid's fluoride toothpaste, no larger than a grain of rice. When your child learns to spit out the toothpaste around age three, you can start using a pea-sized amount. Make sure to monitor brushing time, especially with young children, and encourage spitting out rather than swallowing the toothpaste. Swallowing large amounts of fluoride toothpaste can pose a risk to your child's health.
In-Office Fluoride Treatment
If needed, we may recommend preventative fluoride treatments to help strengthen your child's primary teeth, as well as the adult teeth developing behind the scenes. If your child consumes lots of sugary drinks and treats, does not brush regularly, does not drink fluoridated water, or has signs of tooth decay, an in-office fluoride treatment will significantly lower the risk of developing decay, cavities, and other dental problems. The easy, quick, and painless procedure will help keep your child's oral health in tip-top shape.
Preventative Pediatric Dentistry Near Me
Visit Coppell Pediatric Dentistry in Coppell, TX, to learn more about fluoride treatments for strong and healthy teeth. Dr. Karen and her outstanding team are committed to providing quality preventative services to help our young patients enjoy a lifetime of healthy smiles. Call us and schedule your child's appointment today!